EV Chargers
The Ormonde Street Car Park have now added 5 x 22kw AC EV Chargers. Offering up to 22kw AC, our chargers can charge a car in under 4 hours, should your EV take the full 22kw. The chargers will operate 24 hours a day, so customers can charge overnight and have a full battery in the morning. To make sure this resource is available to as many EV Drivers as possible, we will operate overstay fees between 9.00am -7.00pm. Once your EV has completed charging you will have 45-minute grace period after which these fees will apply. To operate the chargers, you simply scan the QR code at the charging point or download the MONTA App and follow the on-screen instructions to begin charging. There is also a 24-hour helpline, should you encounter any issues while operating the charge points.
AED
Automated External Defibrillator, is used to help those experiencing sudden cardiac arrest. It's a sophisticated, yet easy-to-use, medical device that can analyze the heart's rhythm and, if necessary, deliver an electrical shock, or defibrillation, to help the heart re-establish an effective rhythm. There are two AED's available if required. One is located in the Ormonde Leisure Club, adjacent to the Car Park and the other is located in the Kilkenny Ormonde Hotel, directly opposite the Car Park.
INFORMATION
Our staff on site will be happy to answer any queries that you may have while visiting.
JUMP STARTER
We have one on-site because we like to be able to help.
ELEVATOR
Provides easy access to all our modern, weatherproof & well-lit parking floors.
CAR WASH
A separate company provides an excellent car wash and valet service in the Car Park – Call Express Car Wash Ormonde Street on 083 8180908
24 HOUR CCTV
24 Hour & Monitored - Because your safety is important to us.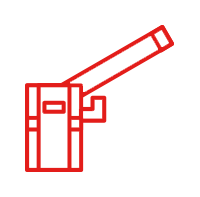 DRIVE THROUGH HEIGHT 1.90m
Please be aware that vehicles over 1.90m are unable to enter without some drama.